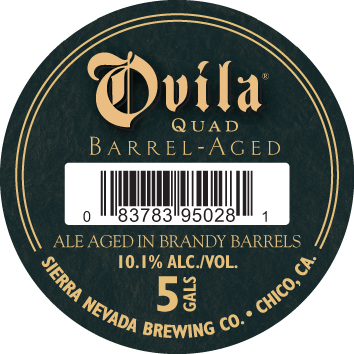 Ovila Abbey Barrel Aged Quad
Style: Belgian Quadrupel
Alcohol % (ABV): 10.1%
Bitterness (IBU): 25
Beer Color (SRM): 14
Recommended Glass: Large Tulip Glass
Brewery's Description:
Bold and flavorful ales are a great antidote for the long, cold, winter, nights, and our Barrel-aged Abbey Quad is the perfect choice when the north winds begin to howl. Matured in oak casks used to age brandy, this intense ale has layers of flavor and deep complexity. Caramel and dark fruit notes, blend seamlessly with the burned-sugar, date, black grape and vanilla notes of the brandy barrels creating a truly distinct and flavorful brew.
Come down to the Duck tonight after 6pm for a special tapping of Ovila's Rare Brandy Barrel-Aged Quad! We will also be featuring two other delicious offerings from this American Trappist-Style brewery: a Saison brewed with Mandarin oranges and peppercorns and a Tripel (newly released this month!!). Meet the Washington brewery representative, John Sanden, who will be here to answer all your questions and maybe even score yourself some free stuff! Bonus!
Cheers!