We will be tapping kegs of...
Saison
An homage to the monks' noble work, this unique farmhouse ale is incredibly complex with notes of lemon, pepper, straw and herbs balanced by the tang of Mandarin oranges and a spicy kick of pepper. The Mandarin oranges used to make this beer were locally grown, including a portion grown on the grounds of the Abbey of New Clairvaux and picked by hand by the community of monks living there.
Abbey Tripel
Great Tripels are a testament to the skill of the brewer-monks who created them. Tripels play tricks on the senses—at first glance, they appear delicate and simple, but in reality, the golden color and mild appearance conceal a wealth of complex flavors. Ovila Abbey Tripel is our take on the classic style, with toasty malt sweetness balanced by reserved floral hop notes and complemented by a traditional Belgian abbey yeast.

Rare!!!
Brandy Barrel-Aged Abbey Quad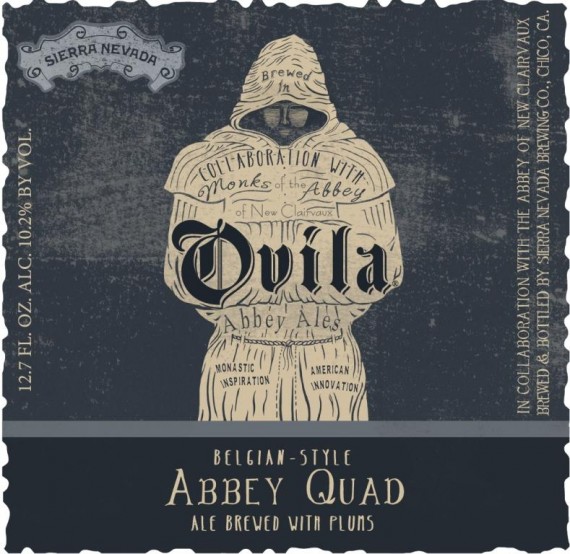 Ovila Abbey Quad is heady with aromas of caramel, rich malt, and dark fruit balanced by the spiciness and delicate fruity notes of a traditional Belgian yeast. This complex beer is a collaboration between Sierra Nevada Brewing Co. and the monks of the Abbey of New Clairvaux. It features sugar plums grown on the grounds of the Abbey and harvested by the monks in Vina.
Here is some info from Sierra Nevada about the Oliva Program:
Our Ovila® Abbey Ales series is a collaboration with the monks of the Abbey of New Clairvaux in Vina, CA. Each beer is a modern twist on a traditional Belgian-style abbey ale—monastic inspiration and American innovation. These rotating Ovila Abbey Ales highlight, when possible, local ingredients grown and harvested by the monks on their nearly 600-acre working farm. We hope you enjoy these one-of-a-kind collaboration ales.
Come down tomorrow at 6pm and support the beginning of Trappist brewing in America!